Is the Divide Between IT and the Business Getting Wider?
By Paul Ayers, Director, Cloud Enterprise Architecture, Oracle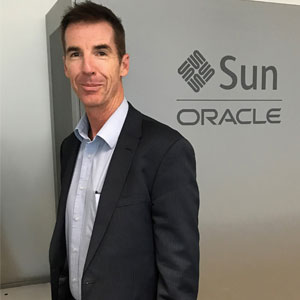 Paul Ayers, Director, Cloud Enterprise Architecture, Oracle
There is growing tensions between business areas and IT groups. In many cases it is nothing personal but, regardless, it's not conducive to the construction of a high performing organisation.
I have little doubt that part of the problem is the increasing pressure on all organisations associated with change. The stakes are higher than ever before as failure to move with the times will, and has, resulted in organisations to fall behind in the market. In many cases it's as dire as a company's very existence is at risk.
This need is driving management within the enterprise to look for better ways of working with digital being at the helm. Adding to this, technical advancements are happening at a rate of knots so much so it is making it hard to keep up or know where to turn.
This is creating a greater demand on IT teams to deliver faster, more agile systems to keep pace with growing expectations. These demands have rightfully brought into question the traditional approaches of running IT systems with new thinking required including a risk based approach to provide enterprise computing services.
Like all significant change, this isn't easy and is proving to be difficult terrain to hike through for many CIO's and their teams. However, they will need to learn to navigate and quickly if they are to remain relevant.
There is an increasing level of frustration in business areas at the lack of flexibility and responsiveness of their IT capability.
Not that it is all IT's fault. Business areas are increasingly demanding the introduction of new technologies as this is seen as the silver bullet to fit all problems.
They want the latest data warehouse reporting tool as their current tool suite doesn't provide the reports they want. More often than not it's not the tool but the underlying data that is the issue but the business doesn't understand that nor do they have the inclination to want to learn – so now it is an IT problem.
If IT say no to a new tool then they are not 'customer centric' or not providing a good service.
When IT and business areas struggle to work together it is a strong indicator that the organisation will struggle to embrace the digital world
If they do relent and buy the tool to appease business and stop the 'noise', but then the implementation fails (as the underlying data hasn't changed) and again it's IT fault. The business area continues to play victim.
Currently IT groups acknowledge there is a problem with how they are delivering their services and most are investing in new approaches to improve. But will this be enough to bring the warring parties back together?
In my view, not to the extent needed to support any significant transformation.
The problem I see is that the divide between the two groups is largely seen as the IT group's problem and not a problem with the way the business groups are run.
Business groups are not taking any responsibility. They like to sit back and just blame IT for not servicing them. They are not willing to change as they don't see they are part of the problem.
Ask most business users about data models, feeder systems, and information flows and their eyes glaze over. However, in the modern world this data literacy is a core competency– it is no longer just the domain of the IT group.
On the other side of the ledger, IT is also having trouble letting go of their control. If you ask them they will say that this is because the required level of knowledge is not in the business area. Regardless of who is right, what is evident is a lack of trust, which will kill any relationship.
When IT and business areas struggle to work together it is a strong indicator that the organisation will struggle to embrace the digital world.
Another warning sign is when an organisation's Executive leadership team see that technology is only the domain of the CIO and their IT Division. In the new world, knowledge of technology is a necessity for all staff and without this skill-set or willingness to learn, organisations will continue to struggle in the digital domain.
Unfortunately many of today's leaders are not addressing a lack of capability within business groups and are still looking to the CIO to drive the digital agenda - alone.
Business people need to move with the times the same way that IT people do – skills need to be developed to remain at par with current trends. Some business people will be capable of learning these new skills while others will not – this is a fact of life so should be considered and managed accordingly.
Any hope of organisations transforming into the digital future will require the whole organisation to change and work together. However, this is a concept that most organisations are currently struggling with due to a lack of trust and appropriate leadership.
Most senior leaders are of an older generation who have marginal understanding of technology and its challenges. Unfortunately without them acknowledging the new order the same problems that we are experiencing now among the business areas and the IT groups will continue and it will be a race to the bottom.