Lean Before Technology
By Kellie King, Head of Process Excellence, Transformation, Bupa Australia & New Zealand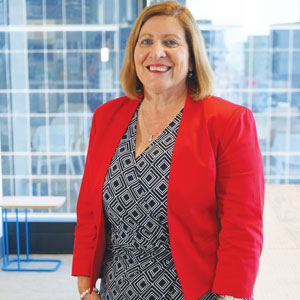 Kellie King, Head of Process Excellence, Transformation, Bupa Australia & New Zealand
Business Process Management is often underestimated, but left unattended, processes grow like mould. When processes are not measured, monitored, and maintained they become untenable making it difficult for employees to get things done. Employees find work around and shortcuts and word of mouth becomes the default process. We drag the customer through these cumbersome processes that leaves them underwhelmed and uninspired about our ability to do business with them. If we just focused on aligning the processes with the customer interaction then we can develop the technology to fit the purpose and make the experience seamless for everyone.
Some may say I'm obsessed about business processes that align to making things simple for customers to interact with us, but the truth is that we often put difficult processes in front of our customers and ask them to share our pain. It might be slow or difficult or confusing or it might just be annoying but whatever it is we need to understand the customer journey and make it as simple as possible to interact with us or guess what, they will find someone who is.
When we started on the Transformation journey it was vital to understand the current state of the processes. Don't underestimate how important this is. When you don't have good systems or robust processes then people find work around and in most businesses, these work around become the process. So, don't kid yourselves that just because you have your processes documented and in a system, somewhere that these are the processes that people follow.
People in your organisation don't like complexity and things that are time consuming that adds no value to them or their customers, which is why they find work arounds. If your people, customers, systems and processes are not aligned to create a great experience then people will find other ways.
Before we embarked on transforming our technology we wanted to find out what were the customers pain points, using human centred design (HCD) tools, understanding customer journeys, empathy maps gave us insights into where the customers were having trouble dealing with us.
When processes are not measured, monitored, and maintained they become untenable making it difficult for employees to get things done
We then reviewed the processes and mapped all the current state, not the official current state, but the ones with all the work arounds, using Lean tools and techniques mapped the Value Stream identifying value and non-value added activities with time lines to identify waste. This then helped us to identify how we could reengineer the process to align to the customer.
As we transform the organisation the processes that were designed to fulfil business requirements, may not be the same processes that are required to satisfy customers. In this digital environment customers want to be able to "pull" services when they want them from any device they choose, so changing from an organisation where we "pushed' our services had to change and our business process and technology design had to align to that.
We also need to consider automation as customers want things faster and don't want to wait for our internal processes that require signatures, approvals and pieces of paper running around in organisation. They want it online in real time. Identifying areas that were bottleneck in the process that required Robotic Process Automation that could speed up the process and reduce errors gets us there much faster than waiting for big technology deliveries and using chatbots to answer repeatable conversations helps to deliver information to customers in a quick and efficient manner.
Getting everyone aligned in the organisation on the journey understand the culture and the appetite for change was a huge educational effort. The first thing we did was spent a year training people in Lean and HCD to make sure that people in the organisation could start to review their processes knowing what was considered value through the customer lens and how we create systems that people don't have to think about, it's just automatic.
It's not hard to recognise the companies that have got this right, we love their products and we love their services. Think Apple and their retail store experience that makes you go WOW when you walk out with a new device that is set up how you want it and every part of the process is seamless. Or the Amazon experience where you can buy online in one click and have it delivered same day… how cool is that! Zappos are another favourite where they transformed an experience of buying shoes to an online experience that is probably the best customer service experience I have ever had.
How do these customers get in the customer's shoes and come up with the best experiences ever? They just don't stop, the continuously improve their systems, their people, their process and adjust to the changing and growing customer needs in an agile and iterative way.
In this fast changing digital technology enabled world, we all need to get aligned with our customers and make it simple for them to do business with us.