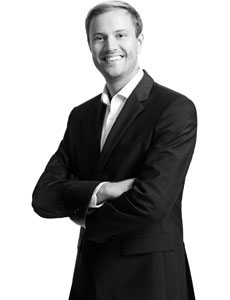 Dr. Gero Decker, CEO & Co-founder
When change becomes the constant and technology is the pilot steering this radical change, an overhaul of company strategy becomes indispensable. To be able to adapt to changes vis-à-vis disruptive technologies and leverage them in a way to ensure optimal customer experience, businesses require a comprehensive methodology driven by business results—Business Process Management (BPM). It has never been a mystery that when people work together towards common organizational goals, the chances of achieving sustained growth and success are multiplied. However, most organizations employ a top-down hierarchical approach, in which the people at the top of the hierarchy formulate best practices and impose them on employees without engaging them in a meaningful and productive way. Especially with market requirements changing continuously, an efficient tool to manage change by sharing knowledge between employees or departments is no longer an option but a necessity. BPM tools of this nature, which effectively allow for collaborative business transformation, are typically hard to come by.
"This is why Signavio was created. Our Business Transformation Suite, a cloud-based software solution for intersectional collaborative process and decision management, offers companies a way to orient themselves in times of constant change," says Dr. Gero Decker, Co-founder, and CEO, Signavio. As a student at Hasso Plattner Institute in Potsdam, Germany, Dr. Decker observed a definite lack of a platform which, unlike other software solutions would enable businesses to implement and truly benefit from process management. He started working on a research project to address the need for a more accessible approach to process management which soon took the form of a company in 2009, introducing the first entirely web-based collaborative BPM software. Today, Signavio serves as a signpost through the daily workflows of over 1,000 customers.
The philosophy behind establishing Signavio has been simple yet powerful; to establish a BPM roundtrip from modeling through execution and continual improvement for businesses to realize sustained growth. This is why Signavio has created a vital link between every solution and offers it in a single platform.
A Comprehensive Suite
Signavio's Business Transformation Suite comes as a bundled package comprising of Process Manager, Workflow Accelerator, and Process Intelligence. The suite enables companies to translate organizational strategy into successful business operations by analyzing and optimizing business processes and decisions in one platform.
Workflow Accelerator is one of the most modern workflow systems available today
Dr. Decker defines the suite as a navigation system that helps clients to quickly realign to new conditions by dealing with unpredictable situations and optimally designing business processes that involve everyone on the team.
While there may be processes carried out for years by a business that yield desirable outcomes, organizational transformation requires companies to ensure that those processes are as efficient as possible. The ability to adapt to changing environments and to activate new business models is the most important requirement for businesses to achieve customer excellence. Signavio's Process Manager helps to complete process and decision modeling by capturing, connecting and communicating the information of how work is done and where decisions are made and delivering it to the Collaboration Hub—the heart and soul of the Signavio Business Transformation Suite.
This Hub serves as an open and engaging central platform where users share process-related knowledge. It facilitates transparent and coherent information exchange by allowing users to engage in task-related discussions and comment directly in the Hub. It can also be connected to Microsoft Sharepoint if required. By integrating with all the three solutions (Process Manager, Workflow Accelerator, and Process Intelligence), the Collaboration Hub collects information from each of them and provides easy access to all aspects of a business's processes. "Every Signavio product is developed with optimal usability and business process improvement potential in mind. We always strive to be agile and to leverage the latest and best technology, and Collaboration Hub is an example of our process-centric approach," states Dr. Decker.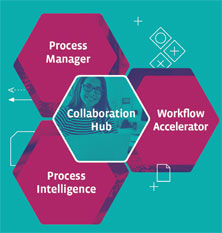 Keeping innovation at the core of its culture, Signavio pushes boundaries and develops products that redefine business processes. The company's Workflow Accelerator plays a vital role in transforming businesses as unlike other software, it allows business users to perform professional automation of manual processes intuitively. It leverages the knowledge from people all around the company and helps transform models into systems that can be used throughout the organization. "This web-based platform is one of the most modern workflow systems available today."
While improving business processes forms the basis of any agile organization, its transformation, requires totally new ways of creating value.
This is only possible when decision makers have readily available insights to making informed decisions. With Signavio Process Intelligence, mining and analyzing vast amounts of data generated from one or multiple running systems is made easy, leading to faster decision making. Additionally, its ability to continuously monitor end-to-end processes provides insight into potential risks and ongoing improvement opportunities.

"Our Business Transformation Suite, a cloud-based software for intersectional collaborative process and decision management, offers companies a way to orient themselves in times of constant change"

The modular components of the Business Transformation Suite integrate perfectly with one another, allowing Signavio's clients to streamline processes and create new workflows, all the while gaining insights into the consistency and efficiency of their business practices.

BPM—Foundation to Continuous Process Improvement

The state-of-the-art solution provided by Signavio has helped it gain significant traction across industries ranging from Banking, Manufacturing, Retail and Logistics, to Government and Public Sector. For instance, Zespri International Limited, the world's largest marketer of kiwifruit was aiming to provide kiwi fruit all year round by building partnerships across the globe and implementing best practices in all their processes. The firm's transformation to a globally-recognized fruit brand and its commitment to deliver quality New Zealand grown kiwifruit to the world demanded one of the most efficient BPM solutions. The company approached Signavio for its Business Transformation Suite that facilitated the conversion of strategy into action and to continuously monitor performance ensuring the achievement of Zespri's ambitions. Today BPM is not an initiative at Zespri but a part of its DNA.

Exploring the Less Travelled Path

Headquartered in Berlin, Signavio enables organizations to keep up with the pace, volume, and complexity of change. What started as a small entity in Germany, is now a global player with a growing team working in offices in Germany, the U.S., Singapore, France, the U.K., and Switzerland. Another milestone in Signavio's wide presence in the APAC region is its recent expansion into Australia with an office in Melbourne. The company is further planning to strengthen its global presence by expanding and exploring the markets in Japan, South Korea, and China. Along with the geographical expansion, Signavio has plans to continuously work on its product line offering solutions that will help revolutionize the way businesses execute operations. Dr. Decker says that from the product standpoint the company is only scratching the surface of the change and process management space. The BPM space is a path less traveled and has tremendous potential to be explored. "We are growing significantly rapidly and are determined to continue doing so as the opportunities at present in the market are huge," concludes Dr. Decker.