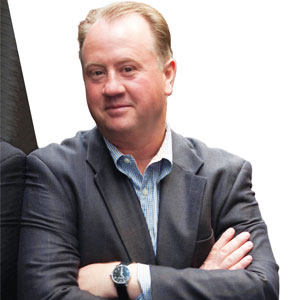 Colin Lillywhite, CEO
Three and a half decades since inception, New Zealand company MAGIQ Software's objective to provide finance and administrative software to help public sector organizations efficiently manage their everyday business operations, remains undeterred.
Colin Lillywhite CEO of MAGIQ Software says one of the real challenges for many public sector organisations today is the sheer level of technological complexity inherent within the business systems environment. "Organizations are dealing with unceasing, inundating volumes of data. The plethora of business systems and technologies employed to process organizational data adds to this complexity. And, for the public sector of course there is the additional challenge of compliance with regulatory and governance requirements," says Colin.
Addressing this challenge, MAGIQ Software has built a platform of easy to use, web-based software comprising three primary product suites—Finance & Administration, Performance Management and Document Management. The Platform can be deployed as a whole or organizations may choose to deploy the individual product suites, with seamless integration to other business systems.
Recognising the resource and budgetary constraints faced by many organizations within the public sector, the MAGIQ Software Platform has been designed to be highly flexible and scalable; allowing the Company to provide its customers with a smooth, low-impact transition to new technologies as they become available.
Colin points to Cloud Computing as an excellent example of this. Customers will have the option to move to the MAGIQ Cloud as and when they choose; and enjoy the simplicity of continuing to work with a single vendor to help them complete this transition. "Cloud computing is definitely the way of the future and we're very excited to be able to offer our Customers the option to take-up our MAGIQ Cloud offering. Online community engagement and the concept of 'e-Government' is another exciting trend we're seeing. We're working with our Customers to provide a MAGIQ Engagement solution that they will be able to easily and cost-effectively implement, so they can in turn deliver a better service to their communities," says Colin.

The Company also takes a highly collaborative approach towards the deployment of its software products, which Colin believes is critical to take-up initially and to the long-term business relationship. "We've designed our implementation processes to be completed in a way that is respectful of the resources our customers can realistically make available to the project. This approach delivers excellent outcomes for the client, and also ensures an enjoyable process with a minimum of stress for everybody. We have trained business consultants, many of whom are experienced industry practitioners, who spend their time teaching customers how to best use our solutions to achieve greater automation of their business processes," adds Colin.

Taking this collaborative approach has clearly been successful with many of the Company's customer relationships exceeding more than 15 years. The Company now has more than 480 customers throughout Australia, New Zealand, the USA, the UK, Singapore and South Africa. Key markets include Government, Local Authorities, Health and Community Services, Utilities, Education and Not for Profit sectors.

Colin believes the current era of digitial transformation has created a very real opportunity for disruption within the competitive landscape; one which MAGIQ Software is poised to take full advantage of. With this belief in mind, Colin sees 2018 as a year for the Company to achieve substantial growth across the ANZ region and he's also excited by the emerging opportunity within the US and South African marketplaces. "Some of the traditional software companies in our markets are struggling to stay abreast of the rapid technology change; however we see this as an exciting opportunity to innovate. We'll be exploring new technologies such as IoT, AI and Big Data to deliver some really brilliant outcomes for our Customers," concludes Colin.