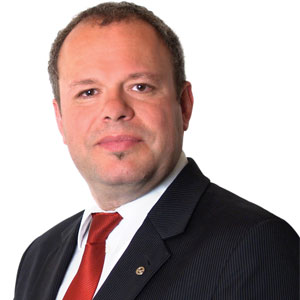 Renato Stalder, CEO
In this digital age, it is imperative for any business to eliminate redundant manual activities and especially to streamline processes. UBER, AIRBNB, and the likes have already proved to be the trendsetters in this regard, following completely digitalization business models. This is where AXON IVY comes into play with its award-winning Business Process Management (BPM) suite. "AXON IVY is one of the best kept secrets in the BPM vendor landscape, offering its BPM suite for many years and already in its seventh generation," remarks Renato Stalder, CEO, AXON IVY.
To ensure a fully covered adaptable and easy-to-use functionality, the company extend sits intelligent Business Process Management Suite (iBPMS) for all verticals. Stalder believes that the potential for a successful digitalization lies in highly automated back-office and efficient and effective customer-centric processes that lead to new customer experiences. AXON IVY thus facilitates automation of these processes through its BPM suite, which is deployed considering two standpoints—implementation and users' perspective.
The company, through an integrated process modeler supports a fully automated design-to-production business process lifecycle. It ensures that every step from modeling to execution is integrated along with the ability to make changes, work on templates, and adapt processes to specific needs. With over a hundred standard connectors to systems and applications like LDAP, Web Services (SOAP and REST), RDBMS, SharePoint, SAP, and many others, it eliminates the integration costs. AXON IVY's iBPMS also consists of an integrated Business Rule Engine (BRE), which helps separating the process logic from the business logic.
Further, keeping in line with the users' perspective, AXON IVY's digital business platform provides end users with a simple and unified experience for collecting information, completing tasks, and making decisions. The platform collects and aggregates data and leverages that data, allowing many tasks and decisions to be automatically performed. With this system in place, processes are completed at a faster pace, giving the organization time to take key decisions, reduce extra costs, and eliminate possible delays. Stalder adds, "For end users, a standard portal for a single point of contact is freely shipped with our iBPMS. This includes social work styles and even chatbots that help doing the process work."
This makes AXON IVY a suitable choice for large and small process implementations alike, which enables companies to start small and grow at a gradual pace
The AXON IVY BPM Suite is optimized for maximum performance and handles critical business tasks. Their clients consider the digital business platform as easy and fast to implement, operate, and maintain as compared to typical BPM suites, which says it all. The company offers strong product features and project implementation at a fair and transparent price. This makes AXON IVY a suitable choice for large and small process implementations alike, which enables companies to start small and grow at a gradual pace. AXON IVY, with a new feature—James helps users to start processes and perform tasks in an interactive and intelligent way. It is a digital assistant meant for an automatic process discovery, which employs natural language processing (NLP) and Artificial Intelligence (AI) to continuously improve and learn the individual behavior of a user.
AXON IVY's focus lies in creating the best technology and it leverages its partner network to turn technology into tailored solutions. The company, however, believes that in the future, the technological aspects will not be the only key towards a successful digitalization journey. The company has directed its efforts towards a so called 'digital business platform' that aims to include the cutting-edge technologies such as Artificial Intelligence, Business Intelligence, and IoT which is claimed to be the future of BPM.
Thus, enterprises put their business process automation strategy into high-gear; easily connect people, systems and data to seamlessly orchestrate, execute, and monitor business processes.